[Berlingske Tidende (Danish national daily), 31 October 1945]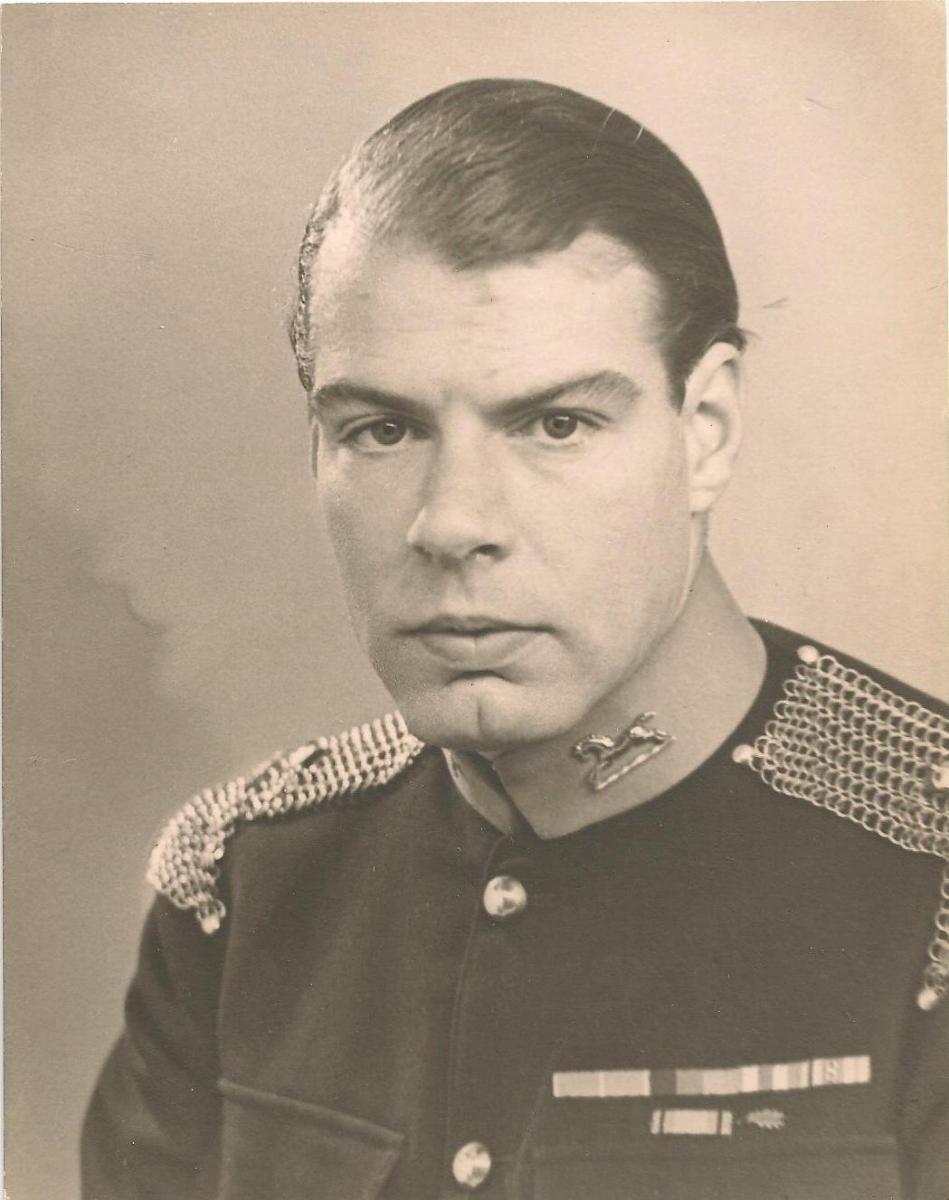 Dane in First Line at el-Alamein
Captain Henrik Karsten describes the famous battle that turned the tide in the Desert War
A young Dane who fought at el-Alamein has come to Denmark on leave. He is Captain Henrik Karsten of 3rd King's Own Hussars, the son of the EAC's managing director in London H.T. Karsten.
Henrik Karsten is a very tall young man with a distinct British air about him: quiet, unimpressed and apparently quite unaffected by his experiences in the war.
He was born in Singapore where his father worked for the EAC. He went to school in London when his father was transferred there, and there he reported for military service in 1941. He spent 9 months at an officers' school, and when his training was completed he was sent to Egypt where he joined the 3rd Hussars, which like most other British cavalry units is a tank regiment.
– We trained in the desert near el-Alamein, Captain Karsten says to "Berlingske Tidende", and while we waited for things to happen we got used to the particular conditions in the desert. I was briefly attached to 22 Armoured Brigade as, on 31 August Rommel, had launched a minor attack on the Southern part of the front, immediately North of the Qattara salt marshes. However, Rommel's attack failed and I returned to my Regiment where I was appointed Liaison Officer to 9 Armoured Brigade, which was composed of three Regiments.
Preparations were under way for the battle of el-Alamein. Our Brigade was to support 2nd New Zealand Division whose commander was the famous General Freyberg. The night between 23 and 24 October we set out from a position somewhat south of el-Alamein. My Brigade's job was to break through two minefields and capture a ridge. We succeeded, but in front of the ridge was yet another minefield which we had to cross with our armoured vehicles, and as we could not manage that we spent the whole day under heavy shelling.
In the evening the Engineers managed to break a hole through the minefield, and during the night between 24 and 25 October we passed through while German artillery and German aircraft competed at annihilating us. At dawn we had reached positions 6-700 metres in front of the ridge, but as there were still minefields ahead we remained there with 100 tanks, primarily to prevent the enemy from carrying out a counterattack. My own vehicle, an armoured Scout Car, was his by two shells. I was not injured as I had just pulled my head inside, but the two other men in the vehicle were killed.
In the evening, at about 6 p.m., we had to pull back and abandon our attack; at that time we had been in continuous action for 72 hours, of which 48 in direct combat. We got some sleep and rested for 5-6 days while we received new officers and tanks. We had lost 40 tanks out of 130. My regiment too had lost a large number of officers.
A new offensive was due to begin in a different place. In the evening of 1 November we started out well behind el-Alamein and drove all night through dust and minefields arriving at a point due south of el-Alamein, some 2000 metres from the Infantry's objective. The enemy's artillery shelled us heavily. I had gone forward on foot, as my job as the Regiment's navigator was to find the way and lead the Regiment through. When I got back, lots of vehicles had been destroyed by shelling, there were dead and wounded, and most of the Infantry Company had been put out of action. Our losses were severe.
I reported that I had a found a way through the minefield, and at 4 a.m. I lead the Regiment through to a new position. The Infantry had attacked in front of us, and the Italians, who had found themselves behind the fighting line, came flocking towards us, but we did not have time to deal with them, so we just waved them to the rear. My work as navigator had really ended with the capture of this new position, and as Colonel Sir Peter Farquhar's Adjutant had fallen ill I got to ride with the Colonel in his vehicle.
At 5.45 a.m. the tanks were to carry out the final attack on the German line under cover of a huge artillery barrage. However, as we had been delayed for half an hour it was now so bright that the Germans could see us clearly and in just one hour we lost 25 out of our 40 tanks, and many officers and men.  It was a mighty battle, and so confusing that we were unable to judge its outcome. At about 8 a.m. the situation had cleared up somewhat and we had almost made our way through the German lines; there was just one more ridge to go. At 10 a.m. we had only 9 tanks left.
Now, a new Armoured Division arrived with the task of passing through the opening we had created, and this reinforcement blocked a counterattack by German armoured forces. My Regiment was given the task of covering the Brigade's right flank. Montgomery had ordered us to knock this hole in the minefield, even at the cost of 100 % casualties, and we had done our job.
On 4 November the New Zealanders with their four Brigades broke through the German lines, and the whole Desert War was set in motion.
– And what became of you?
– What remained of my Regiment spent Christmas in Cairo after which we were sent to Palestine and Syria on security duties. We trained and waited for orders to move to Italy, and on 4 May 1944 we landed at Taranto. In the beginning I participated in the pursuit of the enemy, and later I went into the line on several occasions. During the fighting for the river Po I had the particular task of finding suitable crossing sites for amphibious vehicles. I did that by means of aerial photographs. On 23 April we crossed the Po without any difficulties. Two days later we crossed the Adige, and soon our armoured vehicles entered Venice. With that the war was practically over, and a couple of days later [the Germans in] Italy capitulated.
– And you returned to England?
– I volunteered for service in the East. In such cases you always get 28 days of leave, and just as I arrived in London, the Japanese capitulated. When my leave ended I was suddenly given another 14 days to travel to Denmark, which was wonderful.
– Will you not be going to the East then?
– I do not know yet. There is still much to be done out there.
– What are you in private life?
– I am nothing at all, as I went straight from school to war. Once I finish my military service I'll have to start making something of myself as a private person. But my future will be in England.
er.